EISSA stands for Emission Inventory Support System – Air and is our product line based on the powerful EISS software.
EISSA accords with regional, national and/or European regulations and can be used for reporting air emissions, for compiling emission input to air quality models and for assessing emission related measures to improve the air quality.
It supports the entire emission modelling chain:
Bottom-up emission calculations (both for historical and future years)
Top-down spatial allocation of emissions
Data management
This is possible thanks to its unique built-in functionalities. It makes the EISSA product line the number one choice to develop dedicated applications in Flanders and abroad.
The EISSA applications include EISSA-B, EISSA-POPs/NMVOS, EISSA Shipping, EISSA Slovakia, EISSA Spatial Gridding.
How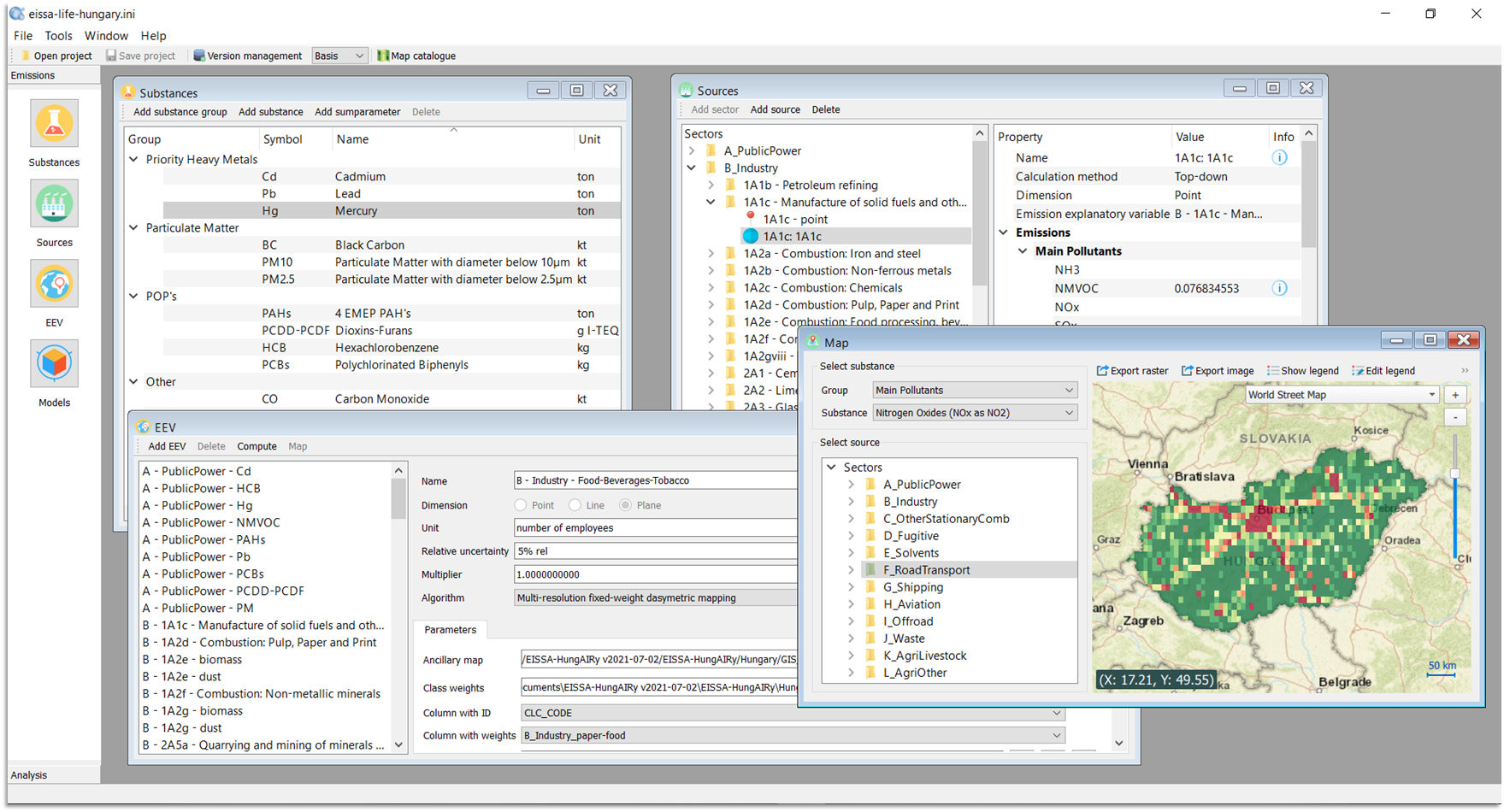 EISSA is an empty box that can be fully programmed for the needs of each individual application. This gives the customer a high degree of control.
The configuration is done in 4 steps, in the 4 subsequent tiles seen on the left of the figure above:
Definition of substances
Definition of sources
Attribution of emission explaining variables (EEVs): predefined algorithms to spatially allocate emission totals. They are configured in the initialization step by our emission experts or can be set up by (or together with) the user. 
Bottom-up model definition: the model pane allows freedom to introduce sector-specific models, add a fixed pre-processor module, etc. It ensures compatibility with existing data sources or reporting formats. 
 
Output
The EISS software has multiple built-in options for analyzing and mapping the output, grouped in the Analysis tab (see figure from the EISSA Hungary tool).
After computation of the gridded emissions, the results can be visually displayed in the preferred aggregation level, edited for direct usage in reports and exported in internationally accepted reporting formats. The data can also be analyzed in tabular format or ranked to accommodate quick analyses.